At Core Physical Care, we are proud to provide comprehensive rehabilitative treatments, including aquatic therapy. By combining physiotherapy treatments and specific exercises in water, aquatic therapy can help reduce any pain and stiffness due to an acute injury, surgery or chronic condition.
Our licensed physiotherapists at Core Physical Care carry out all aquatic therapy sessions after specific training in this treatment method. We offer aquatic therapy in private and community pools depending on your convenience. To make treatment as hassle-free as possible, we will bring all the needed equipment with us.
Why Choose Core Physical Care For Aquatic Therapy
At your first aquatic therapy session, your physiotherapist will thoroughly assess and diagnose your current health. They will then develop a comprehensive and customized treatment plan designed to help you heal and recover.
At Core Physical Care, your health and wellbeing are our top priority. That's why we will always take the time to understand your particular needs and concerns. Our team of registered and experienced health professionals are dedicated to providing you with high-quality healthcare services that we know you deserve.
What Are The Benefits Of Aquatic Therapy?
Aquatic therapy uses the many unique properties of water to provide rehabilitation and treatment that would otherwise be too difficult or impossible on dry land. First of all, water's buoyancy makes weight-bearing exercises less taxing on injured or diseased joints and ligaments. It provides support for limbs and allows them to move even when they are too difficult or painful to move on land.
Buoyancy in water also decreases our body's stability and forces engagement in muscle groups that provide balance and stability, on top of working the primary muscles targeted in each exercise. Meanwhile, the greater resistance we experience while moving in water encourages full ranges of motion during exercise, without overuse of affected muscles or joints.
The continuous hydrostatic pressure during aqua therapy will also help reduce any swelling in the injured area. It's like getting a gentle massage!
Aqua therapy is a gentle and painless healing method. Over time, you will rebuild any lost muscle, improve your balance and be more aware of your body's natural movements. By the end of treatment, you'll feel stronger and more confident in your daily life.
Which Conditions Can Benefit From Aquatic Therapy?
Whether it's an acute injury or a chronic condition, pool-based physiotherapy techniques and exercises can be an effective rehabilitation method. Some conditions that can benefit from aquatic therapy include:
Brain and spinal cord injuries
Chronic pain
Parkinson's disease
Shoulder and arm pain
Back and neck pain
Sciatica
Sports injuries, such as runner's knee, stress fractures, tendonitis
Arthritis
Post-operative joint replacements such as ACL injuries
If you have any questions about aquatic therapy or are unsure whether this treatment is suitable for you, please feel free to contact us for more information.
See you at the pool!
Fees:
$120.00 – 1 hr initial assessment/treatment with your Therapist
$110.00 – 60 minute follow-up treatment
$90.00 – 45 minute follow-up treatment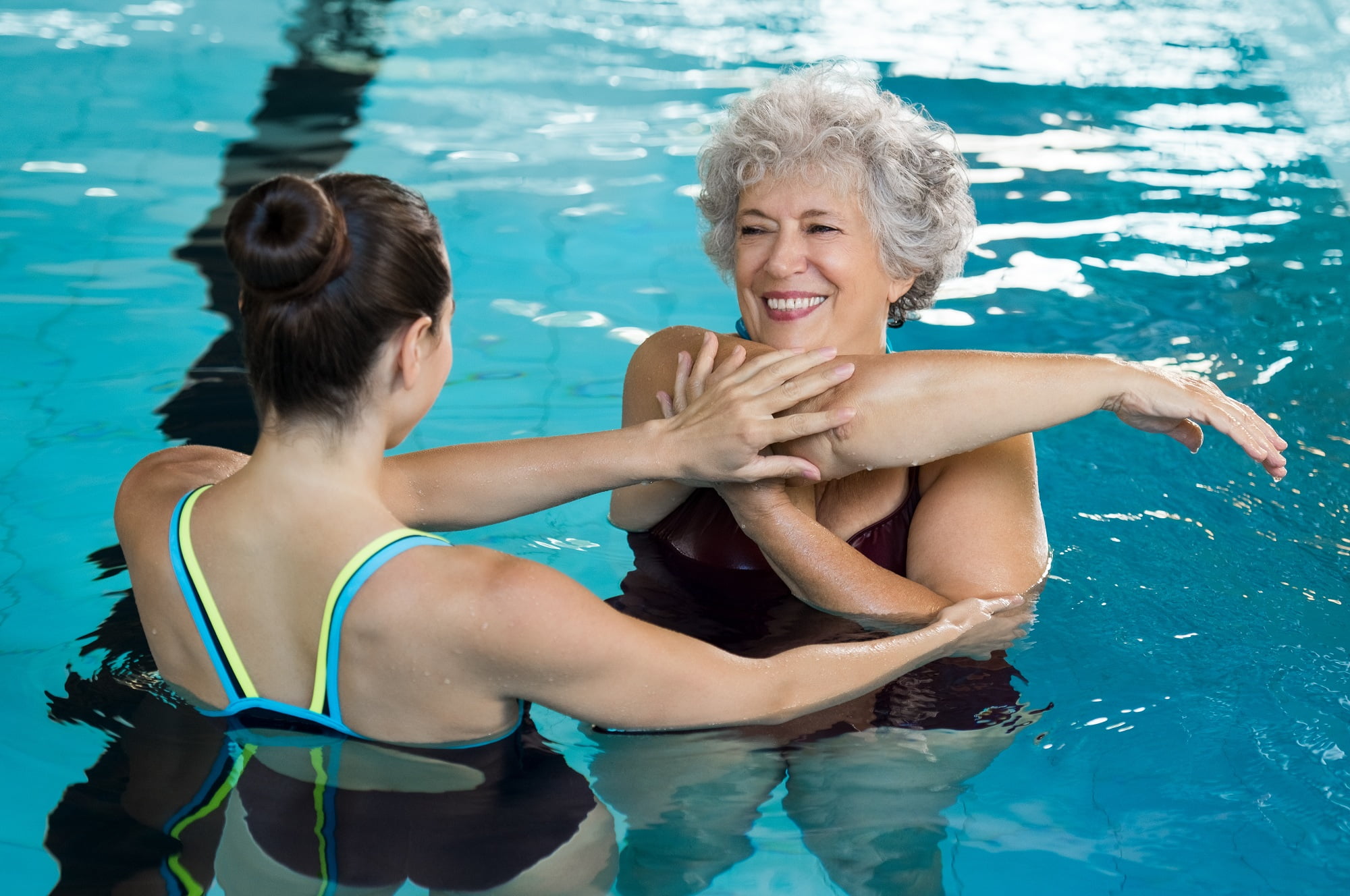 Your Assessment & Treatment Plan
If you are specifically seeking out aquatic therapy, at your first session, your physiotherapist will assess, diagnose, develop a treatment plan to address your specific needs, and take you through your first aquatic therapy session.
(If you have come to us for general physiotherapy and we have prescribed aquatic therapy for you as part of your treatment plan, there will be no assessment at your first aqua therapy session as it will already be complete).
Treatments
Aquatic therapy does not require a referral from a doctor. We also offer direct billing to your insurance company, if this is an option for you. For more information about aquatic therapy, or to
book a consultation
or get started with treatment, please feel free to
reach out
at any time.