Core Physical Care is your physiotherapy clinic of choice in the GTA. Whether you're recovering from surgery or have a sports injury, our team of experienced physiotherapists are here to help you regain mobility and live pain-free.
Why Choose Core Physical Care?
At Core Physical Care, you can expect top-of-the-line comprehensive and individualized care from our team of experienced physiotherapists. No patient is the same. That is why we will always work with you and tailor our approach to your specific needs and concerns.
During your first visit, our physiotherapist will diagnose the root cause of your problem, develop an appropriate treatment plan and provide you with the tools to prevent re-injury. Rather than having treatments performed on you, our physiotherapists are experts in the latest "active therapy" treatment techniques and will guide and support you through the entire recovery process.
Dealing with an acute injury or simply too busy to visit our Toronto clinic? No problem! We offer a mobile physiotherapy service anywhere in the GTA. You can experience the full treatment in the comfort of your own home.
What Conditions Can Physiotherapy Treat?
Physiotherapy is helpful to anyone who is experiencing reduced mobility, injury or pain. At Core Physical Care, we welcome clients with a wide range of physical concerns, but our primary focus is on injury rehabilitation and chronic illnesses.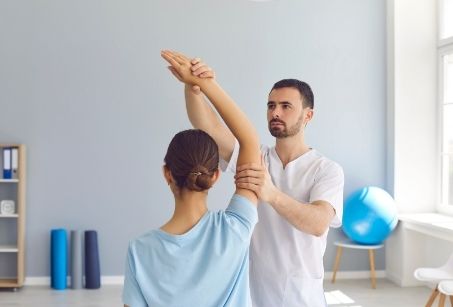 Unsuccessful Physiotherapy In The Past? We Can Help!
Have you had physiotherapy that didn't work or has the pain and discomfort come back? We completely understand how frustrating it must be for you.
That's why at Core Physical Care, our physiotherapists focus on the root cause of your discomfort instead of only treating the symptoms. Our body is a complex and highly interconnected system, and we can often perceive pain in one area different from the site of injury. By focusing on the root of the problem, we can help you understand your body better and eliminate the pain for good.
Why In-home Physiotherapy Is Better Than In-clinic
Forget the hassle and inconvenience of travel and let your physiotherapist come to you! Core Physical Care offers in-home treatments so that getting to the clinic is no longer a barrier to treatment.
Physiotherapy is often most needed when it's the most inconvenient time to travel. You may be in pain or have reduced mobility. You may be recovering from recent surgery, such as a joint replacement or ligament fixation. In most scenarios, having physiotherapy right at your doorstep can optimize your comfort and reduce the possibility of injury aggravation or recurrence.
With at-home physiotherapy, you will receive one-on-one care without the distractions of a busy clinic. Our physiotherapists will focus on you and give you the best comprehensive care that you deserve.
Contact our physiotherapy clinic in Toronto to book an appointment with us now!
Fees:
$120.00 – 1 hr initial assessment/treatment with your Physiotherapist
$110.00 – 60 minute follow-up treatment
$90.00 – 45 minute follow-up treatment
Why Mobile?
If you're dealing with chronic illness or an acute injury – or are simply really busy – getting to a clinic can be a barrier to treatment. Others are simply most comfortable at home. Whatever your reason, in-home treatments eliminate the hassle, travel time, and inconvenience of traveling to a clinic.
Our Areas of Focus
While we welcome clients with a wide range of concerns, our primary focus is on injury rehabilitation and patients with chronic illness.
Your Assessment & Treatment Plan
On our first visit, our physiotherapists will assess, diagnose, develop a treatment plan to address your specific needs and (unless you prefer otherwise) perform your first treatment. Your plan will include treatment frequency and the type(s) of therapy/ies (such as manual, exercise, ultrasound, etc.).
There is a huge variation in terms of treatment plan length. Our goal is always to increase your mobility and reduce/eliminate your pain or discomfort in as short a timeframe as possible. That said, most situations require at least six to eight weeks to realize significant change.
Treatments
We use the latest evidence-based practices that support 'active therapy' (you moving your body with our guidance, instruction, and support) over 'passive therapy' (us performing treatments ON you), although we do use passive therapies (like ultrasounds and laser treatments, etc.) where necessary and appropriate.
Physiotherapy is considered primary care and therefore does not require a referral. We also offer direct billing to your insurance company if this is an option for you.
For more information about on-location physiotherapy, to book a consultation, or to get started with treatment, please feel free to reach out at any time.
Loyalty Packages
Description
Unit Fee
Package Total Fee
Package of 6 sessions Physiotherapy 45min


(10% OFF)

$81
$486
Package of 12 sessions Physiotherapy 45min


(15% OFF)

$76
$918
Package of 6 sessions Physiotherapy 60min


(10% OFF)

$99
$594
Package of 12 sessions Physiotherapy 60min


(15% OFF)

$93.5
$1122
Daily Special Rate Physiotherapy sessions 45min
(Package of 10)
$65
$650
4 X 45min Physiotherapy for 1 month


(Start Up Package)

$80
$320